Football Champions!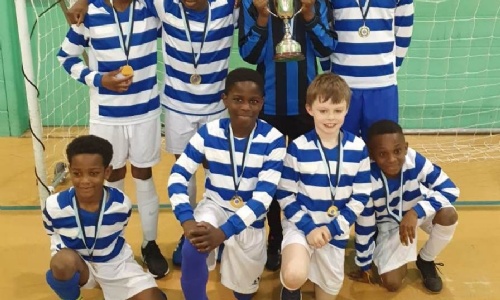 Please enter an introduction for your news story here.
Over the past 5 months our Year 4, 5 & 6 5-a-side football team have competed in gruelling, competitive matches to reach the Queensbridge 5 a-side Football Finals. The team which is comprised of Tobi (Y4), Reagan (Y4), Cayon (Y5), Zarai (Y5), Demeilleur (Y6), Zadok (Y6), Muiz (Y6) & Mason (Y6) went to the finals to represent Mandeville on the big stage! 5 other schools also made the finals and all teams were hungry for the championship trophy.
Each member of Mandeville team showed tremendous team spirit, skill, grit and determination. Every game was tense and each player played out of their skin and it was this togetherness and effort that led our team to victory. Mandeville are the Queensbridge 5-a-side football tournament champions! Huge congratulations to the team and a special mention for Cayon, who showed resilience and composure as opposition players did their best to contain him. And a very special mention to our PE teacher and football manager Mr K, who has now lead Mandeville to Championship Victory in 3 consecutive seasons. This is the first time this has been achieved in the tournaments history! Watch out premier league managers! Go Mandeville!