How to book Play Centre
Step One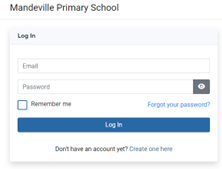 Click on 'forgot your password'
Go to your email address and reset your password (check your junk mail)
Step Two
Book your child onto the breakfast club/play centre/ club. All payments must be made immediately.
If you are eligible to one free After School Club: Check your email for the PromoCode (check your junk mail). Insert the promo code when you go to pay at the end of the booking.
If you need help with this, please do not hesitate to contact the school office.